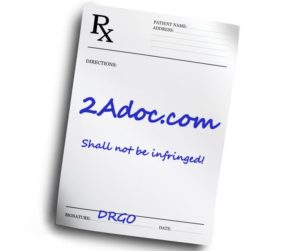 Patients want to trust their provider to not make mistakes and to not lie to them. Unfortunately, when it comes to guns, medical organizations have not been living up to that expectation. Medical associations have been insinuating an anti-gun political agenda into the patient-doctor relationship for decades. Patients are routinely being asked about gun ownership. Worse, many physicians commit
boundary violations
by pressing anti-gun messages on patients.
Frankly, medicine has an
institutional bias against guns
. To counter this, DRGO has launched
2Adoc.com
, a referral service that will connect patients with healthcare providers who respect their second amendment rights and who won't engage in anti-gun activism in the patient exam room.
In February of 2017, the 11th circuit court struck down key provisions of Florida's Firearm Owners' Privacy Act in the Wollschlaeger vs. Governor of Florida case (commonly termed "Docs vs. Glocks"). That ruling gives uninformed and anti-gun doctors legal cover to abuse the doctor-patient relationship to further a political agenda.
This was an unfortunate conclusion to a nearly decade-long saga. In 2010, Amber Ullman and her daughter were
terminated from their pediatrician's practice
for refusing to tell the pediatrician whether she had a gun in her home on the grounds of privacy. Many other such instances had occurred, leading to the creation of Florida's Firearm Owners' Privacy Act.
This issue is a continuing nationwide problem. The case of my 90 year old, bed-ridden mother-in-law who lives in a nursing home in Los Angeles illustrates the extent of the problem: Just recently, she was taken to an off-site specialist consultation. The paperwork my wife had to fill out included questions about the presence of firearms in the home.
More Here